VisceroLymph Therapy is the first to provide integrated treatment for wellness and pain management by using Dr Vodder's Manual Lymphatic Drainage Therapy, Visceral & Vascular Manipulation and Neural Manipulation Techniques. The treatment goal is to facilitate the body to achieve its balancing and harmony which restore their vitality and normal healthy functions.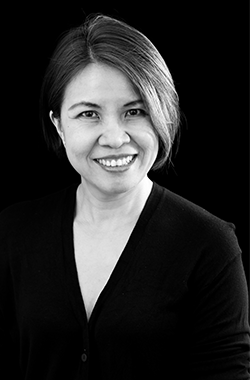 Evelyn
About Evelyn
Graduated from National Taiwan University in 1994 with a degree of bachelor of science in Occupational Therapy, Evelyn had been enthusiastic in the clinical work with extensive experience in Neuro rehabilitation until today.She worked closely with the rehab team in the intensive care of acute neurologically impaired patients, set up program for coma arousal while working in the neuroscience ward and out patient setting of Singapore Mount Elizabeth Hospital (1994-1999).
Evelyn left MEH in 1999 to join Ang Mo Kio Community Hospital where she continued to establish her clinical training in the of Neuro Rehab , Musculoskeletal Rehab which involved all types of fractures and amputee patients. Other than her daily clinical work and I house training for the nursing staffs, she was also a clinical supervisor for the NYP Occupational Therapist Undergraduates.
In 2005 she left AMK hospital and worked with Singapore Gleneagles hospital to improve the service in Neuro Rehab ward.
(2006-2010) Evelyn joined Malaysia Pantai Group of Hospital as senior specialist Occupational Therapist. The main role in Pantai group was to provide training for the junior staffs, fine tuning the Neuro rehab program and assist the department during the process of JCI accreditation.
Before getting involved in complimentary medicine, Evelyn worked in depth with the Neuro setting for so more than 20 years, she found that there are a lot more about the Neuro patients that need to be explored and help other than the Neuro motor rehab. After discovered the Visceral Manipulation Technique from Barral Institute which was developed since 1970 by the founder Jean Pierre Barral, a French Physiotherapist who is also an osteopath. Evelyn feels blessed to be involved in the area of holistic health and well being.

People of all ages and all walks of life are welcomed to Element Therapy. Most importantly, Evelyn treat every individual in a completely holistic and respectful way. Everyone who visits the clinic is there for different reasons, from gastrointestinal , Musculoskeletal pain, women and men's health, migraine sinus etc. With her extensive training in Listening Skills to locate the source of Disorders, Evelyn incorporate different techniques within the treatment session depends on the finding and each individual's need. She hopes that each and every person benefits in their own way from the treatment sessions.
Maintaining Form, Function and Wellness is the focus of Evelyn's therapy.
Movement is Life, and Life is Movement, regardless of how small the movement may be!
In March 2017, Evelyn founded Element Therapy Sdn Bhd with the vision to provide international Standard of Manual Lymphatic Drainage Therapy together with her integrated therapy skills to help people with pain and health issues. Evelyn strongly believes that preventive medicine is more important in dealing with disease.
Her mission is not only to increase the awareness for the importance of Lymphatic system in the disease prevention, she also wants to bring awareness to the young generation of Rehabilitation team about the integrating Visceral Manipulation, Neural Manipulation and Lymphatic Drainage Therapy in the management of Musculoskeletal disorder and to look into the real source of problem before treating.